OnlyOneOf sings 'A sOng Of ice and fire' in mini-album 'Produced by [ ] pt.2'
Boy group OnlyOneOf has released their new single album 'Produced by [ ] pt.2', a sequel to their March 2020 part 1 of the series. The new album consists of 3 tracks produced by three different musicians and spanning different genres, along with a music video.
The first track, "blOOm" is produced by Seo Samuel. It is a warm song about beginnings and the initial stages of new love. 'blOOm' gives the message that even if the beginnings are the same, no two journeys are alike, and that makes each existence unique and precious.
"얼음과 불의 노래 (A sOng Of ice and fire)" the main single of the album is based on George R R Martin's novel series by the same name. It is a fast-paced song with intense emotions and a fantastical perspective of love. With a music video filmed in an eerie location paired with fluid choreography, 'a sOng Of ice and fire' does justice to the mystical nature of the inspiration. This song is produced by KPop producer duo GroovyRoom and written by Haeil and Xydo.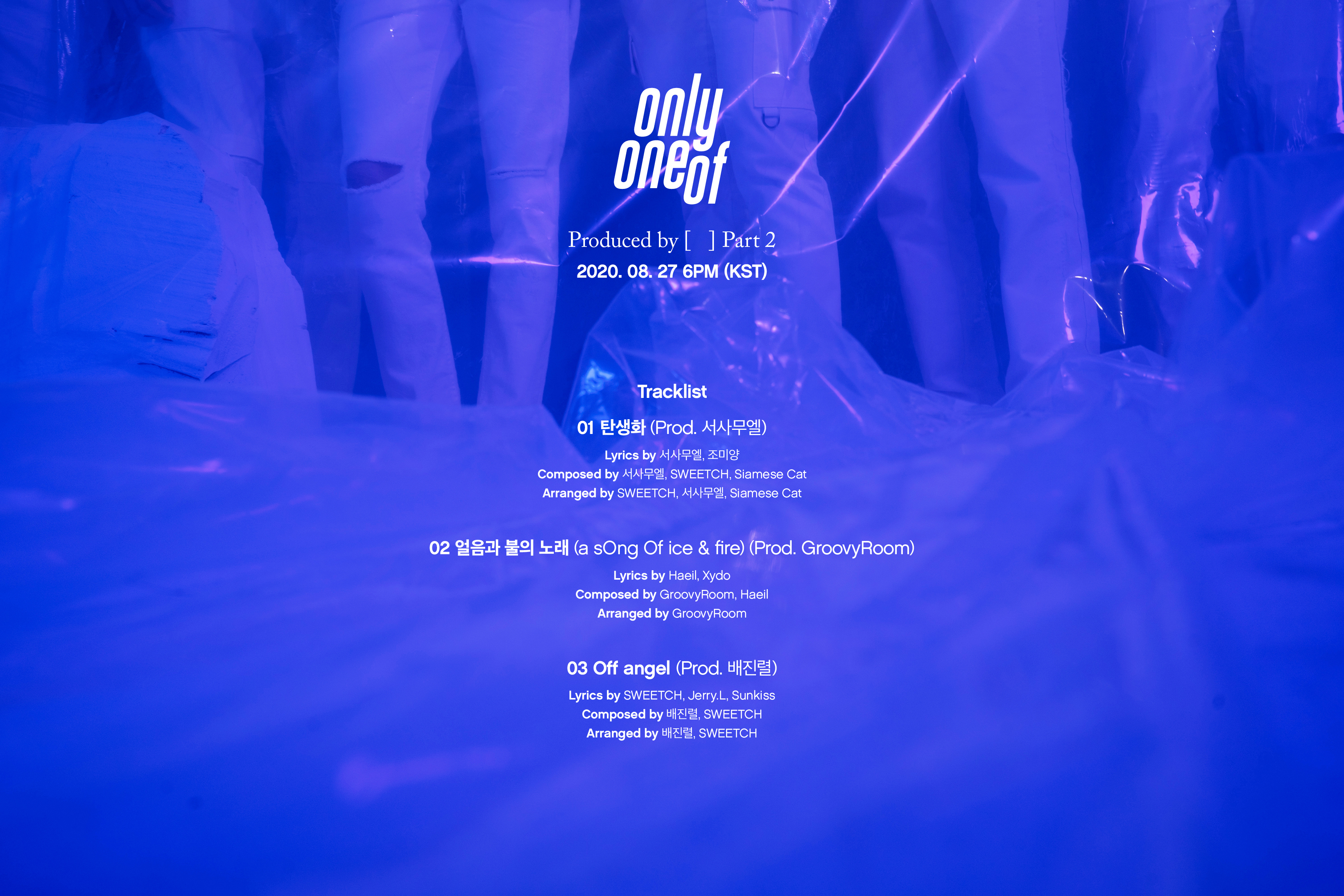 Finally, "Off angel", a ballad produced by musician Bae Jinryeol aka JR Groove, is a new genre in the discography of OnlyOneOf. It is added to the album as a contrast to the track "Angel" in part 1 of Produced by [ ]. The group carries out this song just as wonderfully as they do the others, despite its novelty, and it can be seen in their powerfully emotional vocals throughout the song.
Overall, 'Produced by [ ] pt 2' lives up to OnlyOneOf's goal of standing out from the crowd while at the same time, retaining a sense of familiarity. Though produced by different artists, the blend of vocals, rap and instruments hold it together as an exploration of different areas of existence, therefore appealing to lovers of standard Kpop and experimental music alike.
Do You Know OnlyOneOf?
OnlyOneOf is a 7-member boy group consisting of members KB, Love, Rie,Yoojung, Junji, Mill, and Nine. Signed to 8D Creative, the group made its debut in May 2019 with mini-album "Dot Point Jump". Post debut, they have released multiple compilations of songs – "Dot Point Jump Vol.2", "Line Sun Goodness", "Your's Only 2.2" "Unknown Art Pop 2.1" and Single albums "Produced by [ ] pt.1" and "Produced by [ ] pt.2". The group wants to stand out from other KPop idol music and create their own standards and define it as "a pursuit for existential direction". Their next album is expected in January 2021.
You can listen to OnlyOneOf's new single album "Produced by [ ] pt.2" on Spotify and Apple Music.
The music video for 'a sOng Of ice and fire' can be seen below:
Media courtesy: OnlyOneOf Official and 8D Creative