Survival reality show Superband's runner-up band LUCY is here with their first mini-album called 'PANORAMA'. Consisting of 6 tracks including a collaboration with Suran, 'Panorama' is the 4-member band's first official release on 13 of August, just three months after their debut single 'DEAR' in May this year.
'Panorama' is a beautiful mix of different genres and anecdotes that come together to form one story. The tracklist was posted on the group's official Twitter and Instagram handles on 3 August 2020.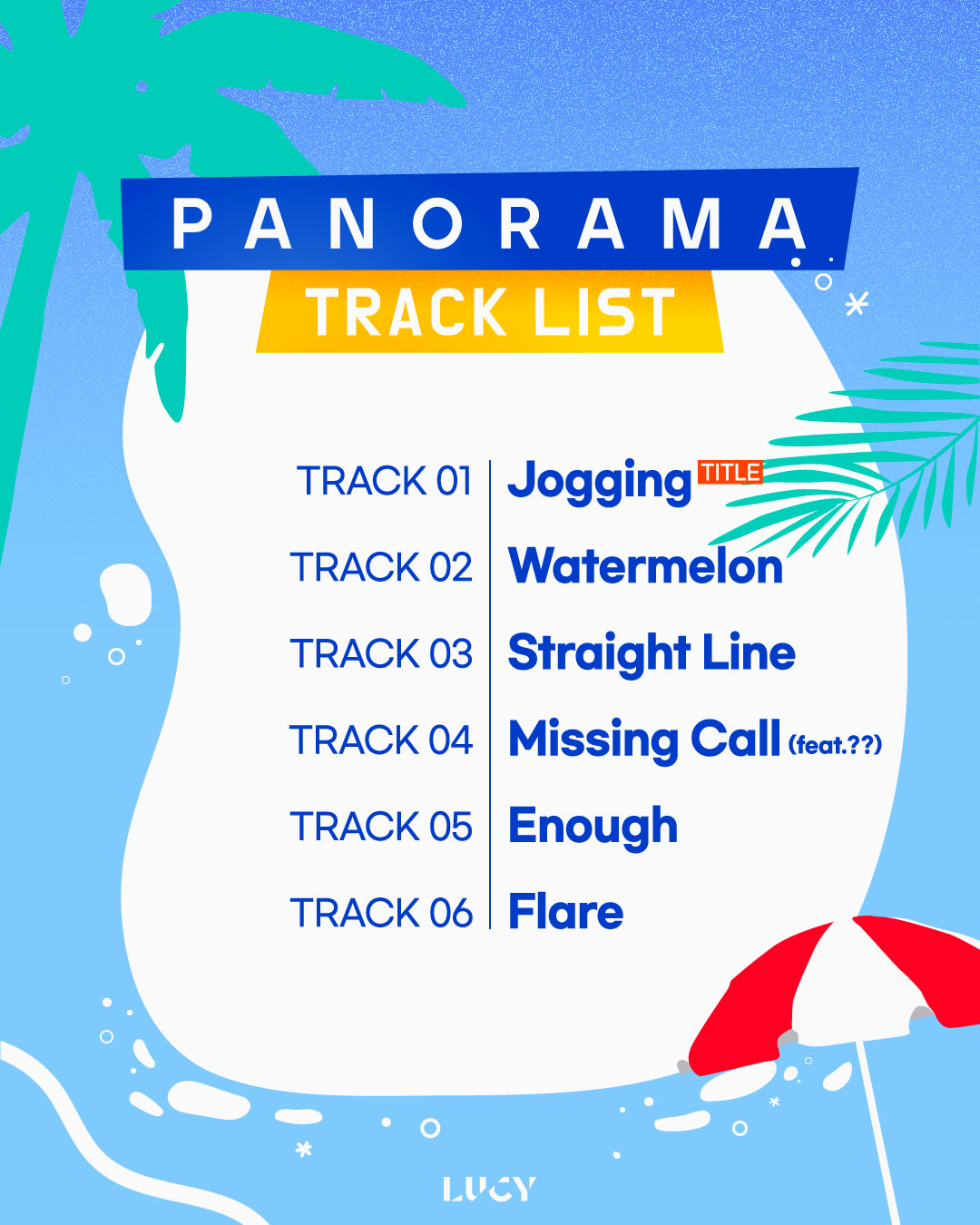 #1 'Jogging' is the lead track with an accompanying music video which depicts the constant race of modern society, where 'jogging' on a path different from the prescribed one or taking a break from this marathon is discouraged. This song is a hand on the shoulder saying 'It's okay to take your time and figure out where you want to go, instead of blindly running.'
At #2, 'Watermelon (수박깨러가)' is a song for taking a break to enjoy the moment and to do what makes you happy without guilt. It's an energetic beach song, with elements of Electronica.
#3 'Straight Line' is a comfort to those of us who feel lost and unsure of where to go. 'Just focus on what is in front of you and keep going. At the end of the journey, when you look back, you'll see that the path you took was a blessing in disguise' sing LUCY in this one.
#4 'Missing Call', featuring Solo singer SURAN, is an emotional track about the confusion of 'to do or not to do' – "Why can't I delete your phone number, still? Even after dawn has passed, I still wander in your night, in search of your voice." Suran's voice on this 4th track gives the narrative a bridge to the next song.
#5, 'Enough' is a song fully written and composed by Gwangil. It speaks of the regrets of not having loved someone enough, of having let go of love out of pride. "I should have loved you enough. If we had walked together and stood by each other, do you think we would be different from the people we are right now?" is the sentiment reflected in the song.
#6 The final track of the album, 'Flare' is a song composed by LUCY during Superband, and hence more familiar. It is a song celebrating the reasons that make us move forward, and the safe places that we can lean on and refill when the going gets tough. Thus is completed the panoramic picture by LUCY.
Panorama in Summary:
The band has always described their music as 'Ambient Pop' where they try to present imagery through their songs, often inculcating real sounds recorded into the background. 'Panorama', in that context, is seen as a panoramic picture of the progression of a summer day, from fresh, blue sky imagery in the title track 'Jogging' to the ambiance of the midsummer night festival in 'Flare'.
The lyrics for all tracks have been written by the members themselves alongside Benji (B.I.G.), and Lee Juhyuk of GIFT (for Flare). The tracks are majorly composed by member Cho Wonsang. Along with Wonsang, his group-mates from the producer-group 'Yenevara' – O.YEON and Park Jihwan – have taken up the task of arrangement for 'Panorama'.
Do You Know LUCY?
LUCY is a 4 member band under Mystic Story Entertainment. Consisting of vocalist and guitarist Choi Sangyeob, violinist and leader Shin Yechan, Producer and Bassist Cho Wonsang and vocalist and drummer Shin Gwangil, the band was formed in the survival show Superband and debuted on 8 May 2020.
Lee Juhyuk was part of LUCY on the show but chose to continue with his old band, GIFT. Choi Sangyeob, another contestant in the show, replaced Lee Juhyuk as the band went on to debut. Needless to say, all four members are wholeheartedly loved by Walwals, LUCY's fandom.
LUCYs 1st Mini-album 'PANORAMA' can be found on Spotify, Apple Music and Youtube Music.
Check out the music video for 'Jogging' below –
IMAGE/ VIDEO COURTESY – LUCY Official and MysticStories Entertainment