The desire for money and power can make people greedy. The more they have, the more they want. Penthouse season 1 is the tale of such wealthy people living in the 100-storey high luxurious Hera Palace. This K – drama will walk you through multiple genres like thriller, suspense, mystery, crime, a little bit of romance, and a slice of life.
This article DOES NOT contain major spoilers.
Hera Palace and The Penthouse
Hera Palace is where the richest people in Korea live. The higher floor you live on, the more your power is. On top of this hierarchy is the Penthouse couple, Ju Dan Tae and Sim Su Ryeon. The Hera Club is the private of Kang Ma Ri, Lee Kyu Jin, Go Sang A, Cheon Seo Jin, Ha Yun Cheol, and the Penthouse couple. "Little Hera Club" is the club of Penthouse Kids.
Min Seol Ah is a tutor for the little hera club. She appears for the entrance exam of Cheong Ah Arts School where other children have also applied. After finding out that she conned them, the little hera club almost bullies her to death. Min Seol Ah, however, has yet another secret. She has caught Ju Dan Tae and Cheon Seo Jin having an extra-marital affair and she threatens them.
Oh Yun Hui is the mother to Bae Ro Na and a rival to Cheon Seo Jin since their High School. She got wrongfully suspended from the school because of Cheon Seo Jin. She meets her again after many years because of her daughter, Ro Na, who wants to study in the same school where Ms. Cheon is now the director.
On the day of the anniversary party of Hera Palace, everyone except Sim Su Ryeon is in the Hall and Oh Yun Hui has entered the party uninvited and drunk. When Sim Su Ryeon is going down through the elevator, she sees someone push a girl down from the gallery. The girl falls down on a statue 47 floors below and dies.
The people partying identify the dead girl as Min Seol Ah and assume that she has committed suicide. To avoid gossips about Hera Palace, they fabricate the death scene. This is where the wild and thrilling journey starts which is about to change the lives of everyone at Hera Palace.
Revenge and Betrayal
When Sim Su Ryeon finds out that Min Seol Ah was her daughter separated at birth, She feels guilty and enraged that her daughter died a brutal death as an orphan. She sets out to get revenge against the residents of Hera Palace. To her luck, she meets Oh Yun Hui and decides to use her hatred of Cheon Seo Jin as a weapon.
Oh Yun Hui has been living in a rental house. She is barely able to manage her finances after paying off her dead husband's debt. Su Ryeon tricks her into moving into the Hera Palace for her own benefit. Yun Hui gets deeply involved into the lives of Hera residents.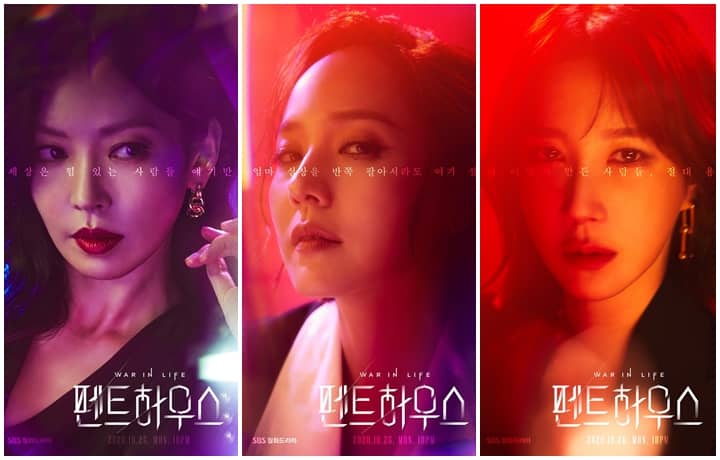 While the adults are busy cleaning in their dirty business, the children are under pressure for their exams to qualify for Seoul National University. Ju Seok Hun, the eldest son of the Penthouse couple is aware of his father's affair. He reveals this to Eun Byeol-Seo Jin's daughter when she is threatening Ro Na, now Seok Hun's girlfriend.
Oh Yun Hui is doing all the dirty work for Sim Su Ryeon. On the other hand, Su Ryeon has joined hands with Logan Lee to destroy her heinous husband. After a series of events, Oh Yun Hui is dragged into a situation and she has to protect herself and her daughter from this cruel world. Eventually, she ends up betraying Su Ryeon.
The show majorly revolves around Ju dan Tae, Sim Su Ryeon, Cheon Seojin, and Oh Yun Hui. All the actors have performed with excellence, which has gained them awards and recognition. Kim So Yeon as Cheon Seo Jin stands out with her charismatic acting. As a result, this K-drama is a whole roller coaster ride from beginning to end and it doesn't stop there. The creators have announced two more seasons for the show.
Main Cast
Lee Ji Ah is a Korean actress known for her roles in Beethoven Virus, Athena, Thrice Married Woman.
Kim So Yeon is a Korean actress known for her roles in All About Eve, Prosecutor Princess, Happy Home.
Eugene is a Korean singer and actress. She is a former member of the girl group S. E. S. Her popular shows include Save the Last Dance for me, All about my Mom.
Watch Penthouse Season 1 here.